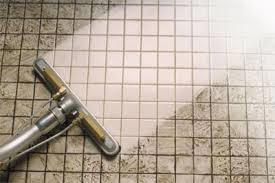 What color is your grout? The truth is over time, all grout colors turn a dirty gray, and in some cases even black.
Even the most beautiful and expensive tile can appear dingy and unattractive when surrounded by dirty or stained grout. Foot traffic, spills, improper cleaning methods and products can all cause grout and tiles to look unappealing, but Blue Ribbon Tile and Grout cleaners are the perfect solution to make them look brand new.
The good news is that your grout's original color may still be there underneath the dirt and grime. If you look in a corner or under a piece of furniture, you might even spot a pristine section. Wouldn't you like to see that color everywhere again? Blue Ribbon can restore your grout to its original color and condition by using our advanced cleaning methods. Our well-trained and experienced technicians will provide the best tile and grout cleaning service for your home or business.
After we finish cleaning your grout, the original color will show clearly and you'll be ready to seal the grout against future stains, prolonging its life.


LEAVE IT TO THE PROFESSIONALS

We are a full service tile care company.

In addition to tile and grout cleaning in Fort Worth FL, we also can professionally seal your grout. This will help it from permanently staining as well as keeping your grout cleaner for a longer period of time. In addition to sealing grout in Dallas / Fort Worth, we can effectively care for your stone floors and counters. This would include stone cleaning, stone sealing and polishing stone in North Texas.

• Commercial Tile Cleaning, Commercial Grout Cleaning, Commercial Stone Cleaning
• Residential Tile Cleaning, Residential Grout Cleaning, Residential Stone Cleaning
• Grout Cleaning & Tampa Grout Sealing
• Natural Stone Cleaning
• Terrazzo Cleaning & Sealing
OUR TILE & GROUT CLEANING PROCESS
Our tile and grout cleaning process:

- We determine what chemicals are needed

- We apply the chemical and let it stand for approx. 15 minutes to loosen all the imbedded dirt

- We pre-scrub traffic area by hand for maximum result

- We then use hard floor high pressure scrubbing and extraction tool

- As the equipment is cleaning, you can see the tile luster & clean grout lines emerge

- Job is inspected

- Flooring will dries in approx. 15-20 minutes

- Tile and grout sealing (recommended)

We strongly recommend sealing your tile and grout after it has been cleaned. This extra layer of protection seals the tile and grout, making it resistant to spills and stains and easier to clean in the future.