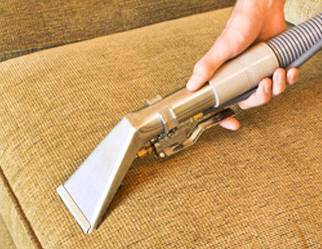 Since you don't walk on your upholstery with dirty shoes, you don't track the dirt and grime from outdoors onto your upholstered fabrics. So it is only natural that you also don't realize how heavily soiled your sofa, loveseat and chair can become.
Dead skin cells, oils, dust, and other contaminants collect on your upholstery, though, and will only be removed through a thorough professional cleaning.
This is not just a quick surface clean. Our process involves a thorough cleaning that involves hot water extraction to get as deep as possible.
We also offer furniture fabric protection which is applied after our deep and thorough cleaning. The protectant provides a clear layer that will help keep your furniture clean for an extended amount of time. It will also help in case of accidents by giving you time to clean before stains set in.


LEAVE IT TO THE PROFESSIONALS

We are a full service upholstery cleaning company.

Blue Ribbon Upholstery Cleaners use the power of extraction to lift dirt and soil to the surface of your fabric upholstery where it is sucked away using our powerful system. Our solutions penetrate deep into the fiber, separating dirt and grime off of the fiber's surface. Then we use hot water extraction to lift the dirty particles to the surface where they are instantly removed. Our safe, non-toxic solutions are environmentally safe and help your fabrics stay as clean as they were when new. When looking for an upholstery cleaner in the Fort Worth area, look no further than Blue Ribbon Upholstery Cleaners. We are here to serve you.
Why Should I Clean & Protect My Leather?

Oils & Grease – Body oils from both humans and animals attach and hold on to leather. Body oils are easily transferred to the head cushions and armrests of the furniture and can cause serious damage to the protective finishes found on leather.

Atmospheric Soils – Consider the dust that builds up on a coffee table or desk over a week's time. This same dust is being deposited on your leather. There are airborne cooking oils and atmospheric pollution that are present, to a greater or lesser extent, in every home. These elements can wear down leather over time.

Common Soils – These soils include dirt tracked in from outside along with sand and fibers from plants, brought into the home by people and pets.

Dyes and Inks – The inks from newspapers and dyes from clothing can transfer onto leather.

Leather, when properly maintained, will last four or five times longer than fabric or man–made fibers. Over time, body oils, perspiration, skin acids and other soils can work their way into the leather.

Cleaning leather furniture is an involved process that requires great care because this material can easily get damaged if it is not treated properly. While a homeowner can do it on their own, professionals certified in the field will have all of the equipment and materials needed to do an excellent job. Because this material is preserved animal skin, it should be treated as such. Substances that can keep it supple and slightly moistened will help maintain its look, feel and durability.

Blue Ribbon will identify your furniture's leather types and select products specifically designed to clean and remove soil buildups and other stains. We will then condition and protect your leather to revitalize and restore its natural beauty and feel.